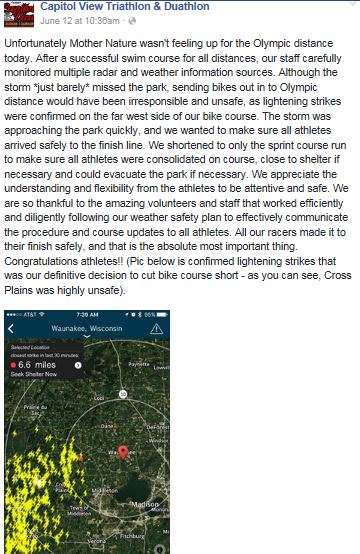 Didn't get to do the race I intended. And struggled a little to piece together what was needed while on family vacation. Yet, making it work, and think I'm getting done what I need to.
Sunday – Capital View Triathlon Olympic distance.
Got out of the swim and they were announcing inclement weather and that all athletes would be doing the sprint distance bike and run. What?! Oh, I was hoping that I was over-trained for an Olympic tri and could push myself some on each support and rock this triathlon. Whew, OK, well triathlon is about mental readjustment, if nothing else, so time to readjust!
So 1500 swim, 10-mile bike, and 5k run.
Disappointed to not get in the Olympic distance tri and did my best to readjust and push much harder on bike and run. = 120 minutes
Monday – 60-minute cycling class. It was hard to get going for the first sprints. Wasn't totally at 100%. Was going to do a core strength class, yet my neck was sore, I felt tired, had work to do (enough excuses??!), so I didn't go. = 60 minutes
Tuesday – Swim session: 8 x 300 (2 x 300 easy, 300 kick, 300 easy, 300 pull). Did the first 300 non-bi then all rest bilateral, felt good. Took 1 hour, 20 minutes.
Then, 30-minute easy run outside. = 110 minutes
Wednesday – Recovery swim session in a.m. Wu – 150m; Main – 5 x 200m (loosely followed, 50 easy, 50 build, 50 easy, 50 hard just to help me keep track). Not sure exactly how long it took me. I'm not dreading swim like I was, so I'm not eyeing the clock like I was! About 40 minutes.
After arriving in Holland, did 60-minute bike ride on my Trek 820. Making it work! = 100 minutes
Thursday – After Kevin got home from golfing, ran 45 minutes. Strides were every 5 minutes starting at 15 minutes. Felt slow at first, then picked up. = 45 minutes
Friday – Swam in wet suit in lake. Didn't have quite enough space in one direction. Took off from the public beach, and it got weedy quick. Didn't want to go too far in the other direction, where there were some boats. So I went back and forth. I was to do 1000m, so I just logged 30 minutes. I practiced trying to swim straight to one of the posts marking off the swim area. I keep veering right. So if I try to swim left I end up going straight! I'm not quite sure what's making me crooked. Even when I focus on even arm movements and painting the line, I still veer off.
2-hour bike ride on Trek 820. Didn't love leaving the family to go off and do this. = 150 minutes
Saturday – Vacation day. Played with the kids in the a.m. Totally sunburnt from yesterday's ride. I put sport SPF30. How am I going to be okay with these long race days? Am I going to have to carry sunscreen with me? And reapply every 2 hours?
Was feeling groggy, laid down and dozed a bit.
Got up. Roosed myself. Ate and got ready to run about 5:30 p.m. About 85° out. Felt quite good until last 20 minutes. Avg 10:26. 90-minute run. = 90 minutes
TOTAL = 675 minutes = 11.25 hours
Swim – 284 minutes = 42%
Bike – 223 minutes = 33%
Run – 168 minutes = 25%